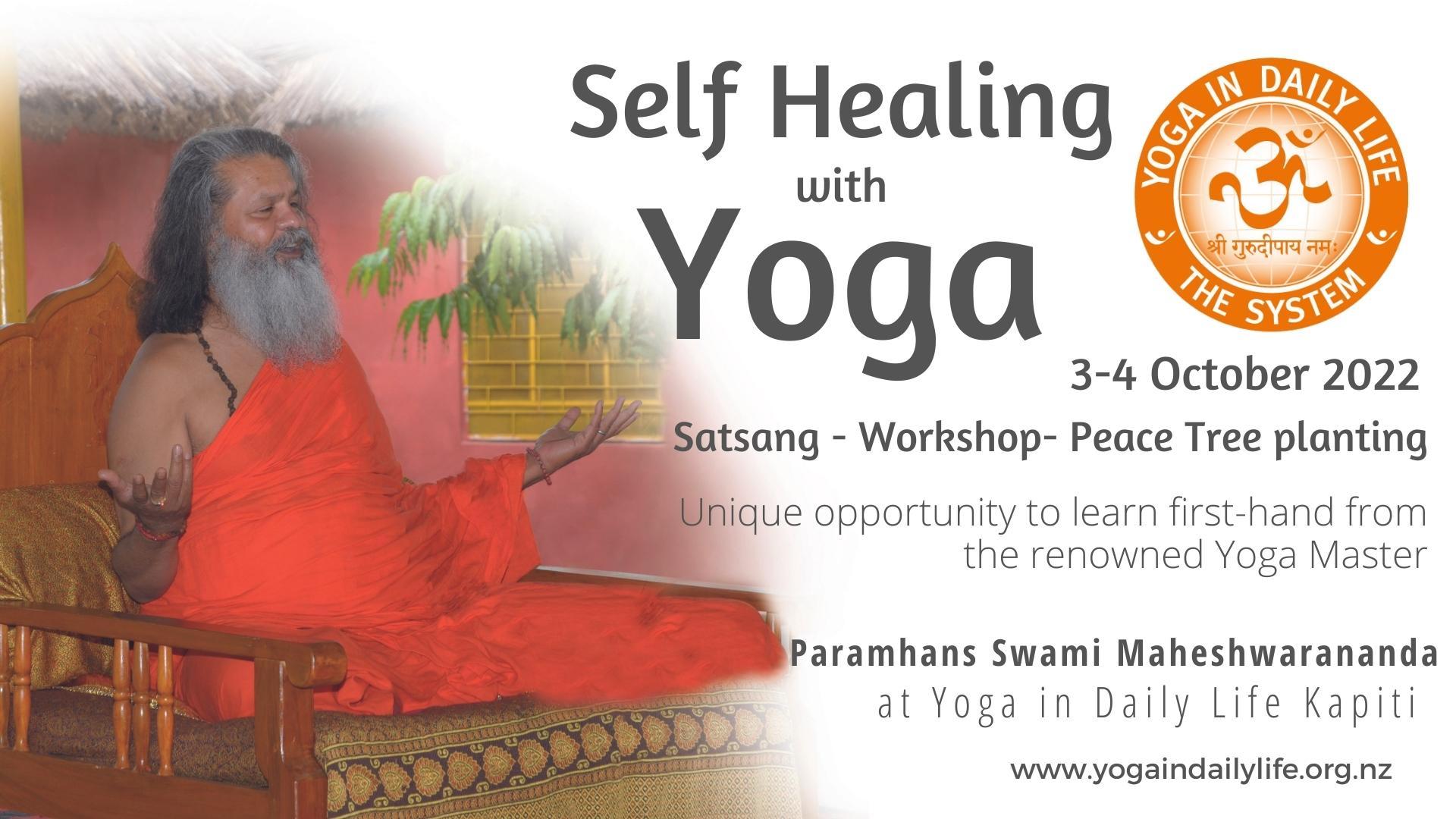 We are very happy to announce another wonderful opportunity to have an insight of Yoga straight from a Master of Yoga, author of the system Yoga in Daily Life - Vishwaguruji Paramhans Swami Maheshwaranandaji.

Vishwaguruji has been travelling around the world for over 45 years, tirelessly spreading the knowledge of Yoga and improving the lives of thousands of people on every continent; and it is thanks to him that we have this scientific system of Yoga in Daily Life now so well established in many countries.

This time Vishwaguruji will guide two events here in Raumati (plus more in Wellington and Auckland) with the topic of 'Self Healing with Yoga'.
For practitioners of yoga & spiritual aspirants these events provides a unique and valuable opportunity to learn from our renowned Yoga Master Vishwaguruji. Come and rediscover the Self, inner peace, and the true purpose of life. Be there and experience the wonders of your own spiritual journey, in good company and togetherness.
---
"Self Healing with Yoga" at Raumati Beach Ashram
Monday 3rd Oct | 6.30-8pm
Talk & Practice | $25
Tuesday 4th Oct | 6.30-8pm
Satsang | $25
Tuesday 4th Oct | 11am
Ceremonial Peace Tree planting | FREE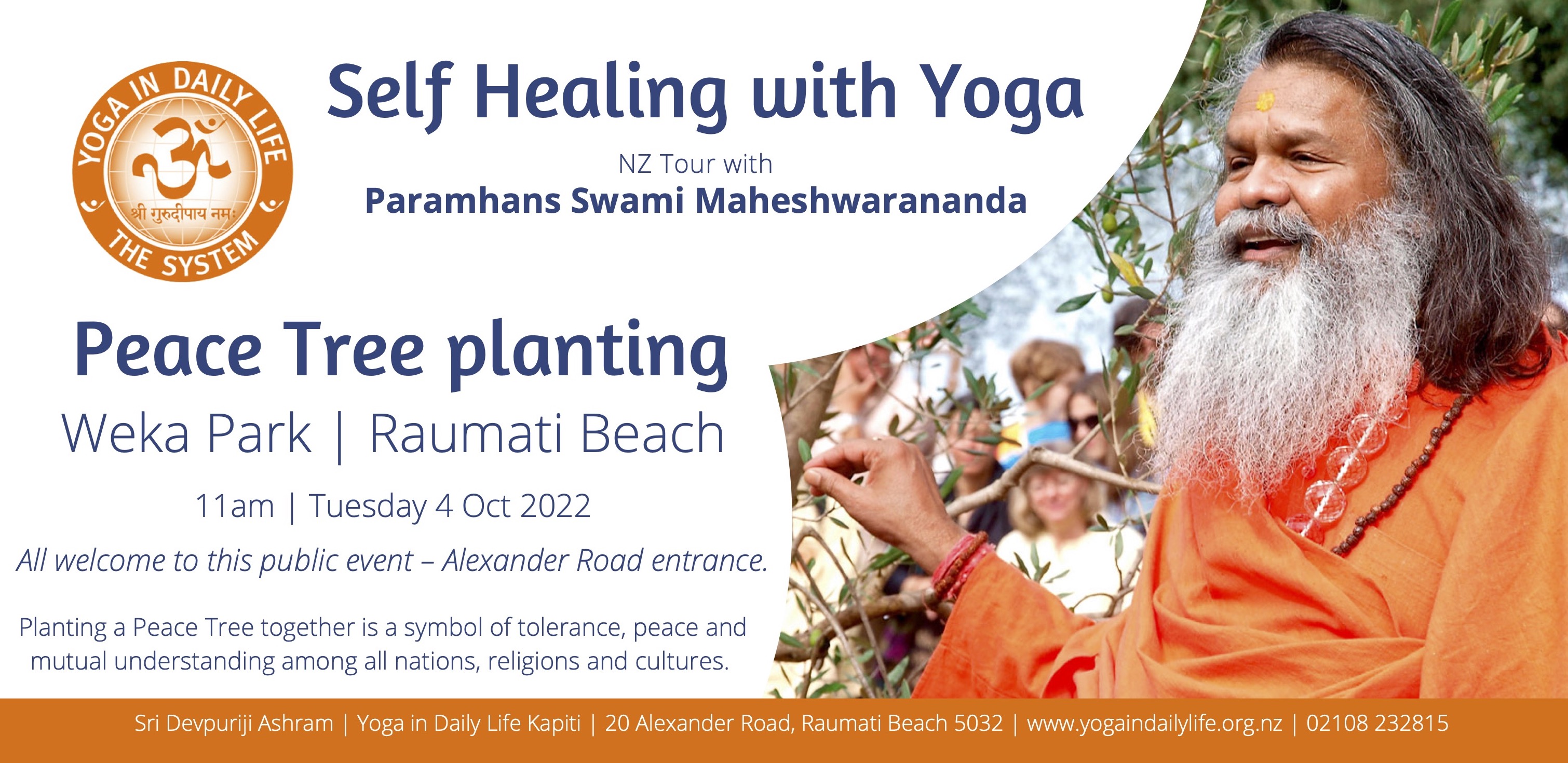 In the presence of His Holiness Vishwaguruji and respected representatives and members of other religions and traditions, we will be planting a Peace Tree as a symbol of tolerance and mutual understanding among all nations, religions and cultures. People from all groups and traditions are warmly invited to participate in this wonderful event. After the planting ceremony, we invite all to join us for simple vegetarian meal.
For programs at the Wellington ashram between 29th Sep - 5th Oct please click here.
---
About Vishwaguruji:
Known also as Vishwaguruji, Paramhans Swami Maheshwarananda is a sage of the modern world who has dedicated his life to the service of humankind. He shares the ancient science of Yoga and spiritual teachings of Vedic culture. He is the author of the book and founder of Yoga in Daily Life the System schools worldwide.
As an 'ambassador of peace', Swamiji frequently travels the world to teach and spread the divine light of knowledge. Where ever he goes, seekers of the Truth learn from and imbibe his wisdom and light.
Satsang: Satsang is a Sanskrit term derived from two roots: sat meaning true and sangha meaning community, company or association. It can be translated as "associating with good people" or simply "being in the company of truth," and refers to the act of gathering with like-minded, uplifting people, especially those on a spiritual path. Satsang with a teacher such as Vishwaguruji is a blessing and an opportunity to learn and experience more depth of yogas wisdom.
---
Bookings
Please contact us for bookings on 02108232815 (Swami Madhuram) or book online using your credit/debit card. Although there is no fee for the peace tree planting ceremony but we would apreciate if you contact us to let us know you are coming.