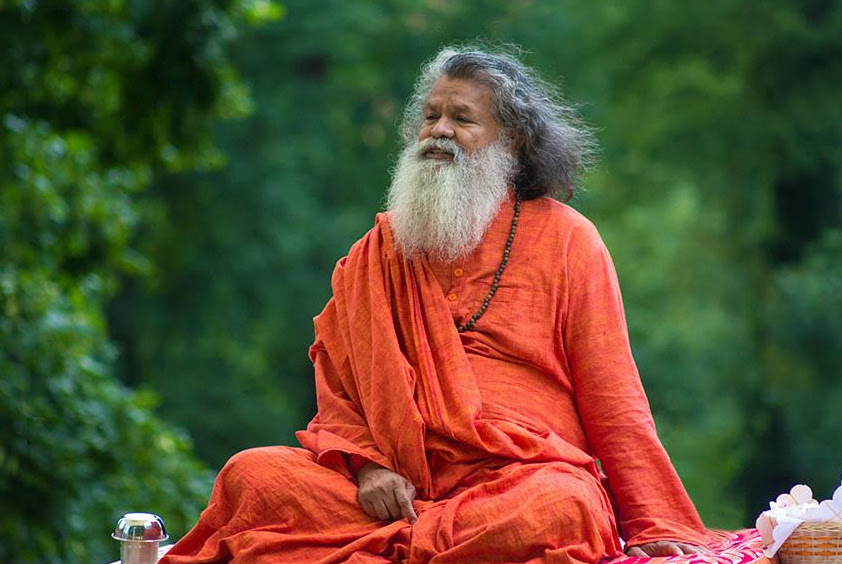 Vishwaguruji will be in Auckland from 6 - 11 October.
The programme:
Satsang (= Spiritual gathering):
Thursday 6 October | 7pm by donation
Tuesday 11 October | 7pm by donation (Farewell programme)

Lectures
Friday 07 October | 7pm | Introduction to Workshop Series
Monday 10 October | 10am | Lecture in Kawai Purapura, North Shore, by donation
Monday 10 October | 7pm | Lecture in the Onehunga ashram
Workshop retreat (8 & 9 October)
The series consists of four parts. If you can't join all, you are welcome to individual sessions.
Morning Programme:
9-10:30am Yoga class by a senior Yoga in Daily Life teacher

10:30 - 12:30pm Practical wisdom by Paramhans Swami Maheshwaranda
Afternoon Programme:
2:30pm - 5pm

Evening Programme - Lecture:
7 - 9pm Practical wisdom by Praramhans Swami Maheshwarananda

VENUE FOR EVENTS
:
Yoga in Daily Life Auckland
117 Arthur street, Onehunga, Auckland
022 09 10 581
auckland@yogaindaiylife.o
rg.nz
VISHWAGURU PARAMHANS SWAMI MAHESHWARANANDA was only 3 years old when he
started to meditate, inspired by his parents. Later, following strict yogic exercises prescribed by
his Guru, Swami Madhavanandaji, after six months of fasting and meditation Paramhans Swami
Maheshwarananda attained the state of self-realization in 1962. He was initiated in the order of
swamis in 1967. In 1972 he was sent to Europe by his Guru, to teach the wisdom of Yoga to the
Western world. He is author of 13 books, published in 11 languages. He structured the
comprehensive knowledge of yoga into system of 'Yoga in Daily Life'.

YOGA IN DAILY LIFE is a gradual progressive system for obtaining harmony for body, mind,
consciousness, and soul, that can be practised independently of age or physical fitness and is
acknowledged and practiced in European and Indian universities, schools, and hospitals. It offers
to humankind a path to achieve physical, mental, social and spiritual health, with the respect for
life; tolerance for all religions, cultures and nationalities; world peace; protection of human rights
and values; protection of the environment and preservation of nature. The realisation of these
fundamental principles of life will lead man to spiritual development, self-realization, and
enlightenment.

INTERNATIONAL SRI DEEP MADHAVANANDA ASHRAM FELLOWSHIP, a non-profit
organisation, was founded in 1990 by Paramhans Swami Maheshwarananda to unite, under one
umbrella, the thousands of "Yoga in daily life" associations scattered across the world.
The fellowship is a member association in Roster Consultative Status with the Economic and
Social Council of the United Nations (ECOSOC).

Besides many other initiatives, it's three biggest humanitarian projects are:

• In 2002 the Shree Vishwa Deep Gurukul Prathmik Vidyalaya, Yoga in Daily Life's primary
school in Rajasthan, India, was founded offering free education and school equipment as
well as free transport to school to local children (especially successful in promoting
education among girls).
• To address the major water crisis in the desert state of Rajasthan, India, the International Sri
Deep Madhavananda Ashram Fellowship, has launched a Desert Rainwater Harvesting
initiative, providing water during the drought periods, and so supporting local agriculture.
• The "Sri Swami Madhavananda Hospital" at Jadan Ashram in the Pali district of Rajasthan,
India, serves as a naturopathic and allopathic hospital since there is no other professional
hospital in the 30 km area of the Ashram, thus providing residential health care to
neighbouring districts.