11-13 Oct 2019| Tauhara Retreat Centre, Taupo| $280-$330 shared or private accomodation
This retreat is open to everyone wishing to explore & benefit from an authentic yoga practice.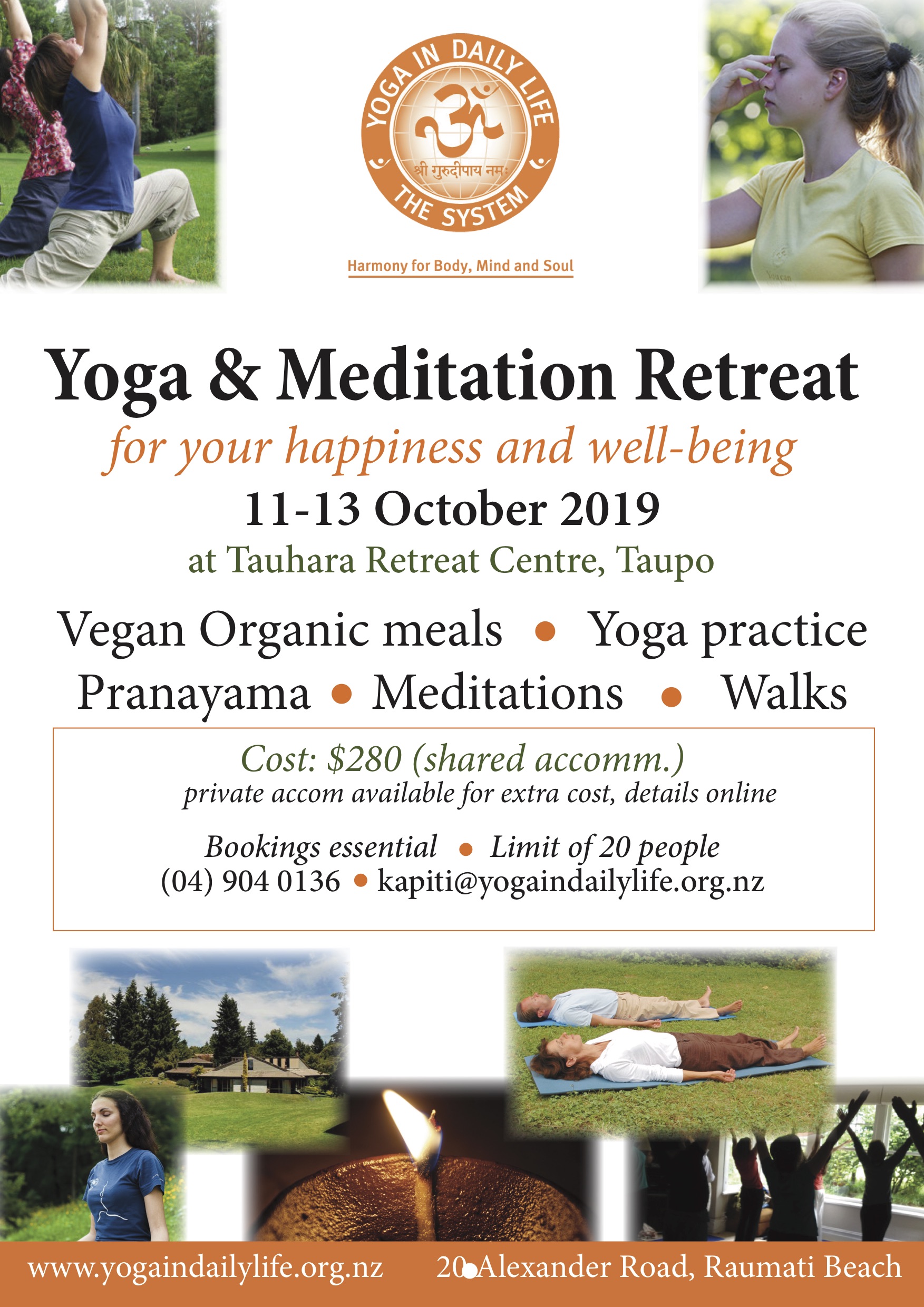 With practice yoga can enrich, inform and illuminate everything you do. The system of Yoga we teach is called Yoga in Daily Life which was developed by Paramhans Swami Maheshwarananda (Vishwaguruji), an authentic Yoga Master who hails from a long lineage of great Indian Masters. While completely true to the authentic tradition of classic Yoga, it is designed to meet the needs of our modern times. It is a holistic system of health, encompassing the science of body, mind, consciousness and soul.
In this busy world we live in we all need a break sometimes. A retreat is an opportunity to find some tranquillity and space among our busy lives. The weekend schedules has been carefully designed for a balance between doing & being; programs & free time; challenges & nourishment. We encourage you to take a digital and media detox, slow down a few notches and soak up the natural surroundings; breathe in the fresh country air, take some time for silence and time to connect with new friends.
This weekend is designed to leave you feeling rested, cosseted, recharged and with valuable tools to take home with you so that the benefits can continue in the weeks and months following. Let our friendly professional team look after you…

The weekend includes:
• daily guided meditation sessions
• daily yoga nidra - guided deep relaxation
• daily yoga classes
• mini workshops to expand your horizons
• delicious vegetarian meals
• Saturday night relaxing Nada Yoga evening (meditative music & chants)
• free time in the beautiful nature
• time by your self & some social time too
• periods of silence
ACCOMMODATION: The retreat will be held at Tauhara Retreat Centre, 60 Acacia Heights Drive, RD 5, Taupo 3385. This peaceful location supports you to focus on your practice, regenerating your energy and giving fresh inspiration.The retreat is suitable for everyone, from beginners to advanced and you will have the opportunity to ask our teachers any questions you might have. The accomodation is available in few options:
UPODATE: all solo self-contained accodation is fully booked now.

BOOKINGS CLOSING FRIDAY 4 OCT

Bunkroom Shared: $280/person
Bunkroom Solo: $300/person - FULLY BOOKED
Self-contained Shared: $320/person
Self-contained Solo: $330/person-FULLY BOOKED

Please have a look at Tauhara Centre website to see the options for accomodation. Please note that not all options of accomodation are available at the time when you're looking. Contact us with your prefered accomodation option and we will be able to assist you. Send a text or call Swami Madhuram on 02108232815 prior the booking.
BOOKINGS: After we have confirmed the availability of your desired accomodation type you can book online with your credit/debit card, or sending money to our account: 03-0578-0110564-00 . Please let us know once you've done so to This email address is being protected from spambots. You need JavaScript enabled to view it..
BOOK ONLINE: Please note solo accommodations are no longer available. Contact us before you make your booking. Thank you very much.