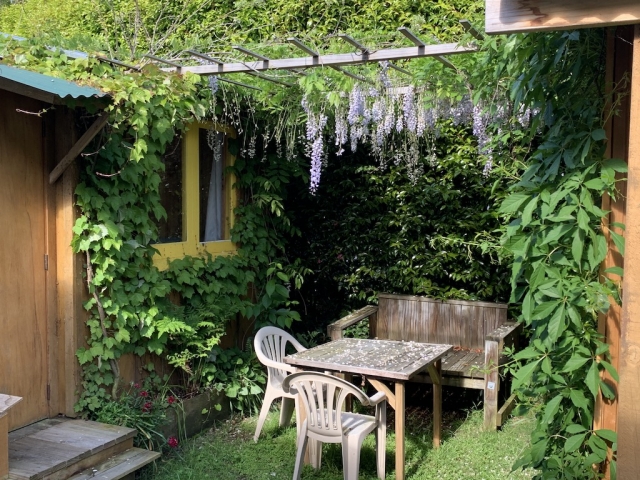 Dear friends,
We are a small Yoga Ashram near the beach and have two meditation huts in the garden available for someone to stay in, who would like to experience living in this ashram environment. An ashram is a place for working on self-development and social harmony, through practising various kinds of yoga, including the exercises, relaxation & breathing techniques, meditation, selfless service (Karma Yoga), chanting and prayers.
Our ashram is a part of the international chain of system called Yoga in Daily Life. Although we only teach this yoga system here, we welcome help of all sorts from individuals and couples who are interested in developing or strengthening a spiritual practice and their own personal growth. We aim to find work for people that they enjoy doing. We have a variety of tasks needing workers, from maintaining and enhancing the vegetable gardens, hothouse, general gardens, as well as painting and maintaining the building, cleaning, cooking, preparing for yoga classes, workshops and resetting the space after them. In general, we ask volunteers to work 3 hours work per day (5 days a week). The working day generally follows this routine:
7.30am : Morning Prayer (Arati)
7.45-9am : Individual yoga/meditation practice
9.30am : Breakfast
10am-1pm : Work
1pm-3pm : Quiet free time
4.30-5.30pm: Dinner
7:30-8.45pm Yoga class
9pm: Evening Prayer
9.30pm: Silence till morning
We are looking for 1-2 people ideally for minimum 2 weeks up to 1 month of staying here. Longer term would have to be discussed individually.
The food is offered twice a day and also during weekends. Cooking is shared among everyone living in the ashram (Usually one permanent person and 1-2 volunteers)
We've decided to ask volunteers for a weekly koha (donation), with a suggested amount of $15 per person per day. This would be the case for a month and if you still wanted to stay past that time we would discuss your contribution with you.
We ask everyone to participate on preparations of meals during the weekend, outside of the usual week working hours. We also ask everyone to follow the vegetarian (no eggs) diet while being at our ashram.
We are 5 min from the beach, which extends up the coast for 42km, so lot of walking can be done if you would like to. Also on the other side we are surrounded by hills, not very high but enough to have a good steep walk exercise. Generally it is very nice location here, only 1 hour driving from Wellington and yet with the feel of being outside the town in clean and quite environment.
Please be aware that the ashram is a monastic environment and we follow certain rules that may not be part of your usual daily life, such as:
- periods of silence
- no music or TVs etc..
- modest clothes
- high level of cleanliness
- daily prayers