Yoga ignites the light of wisdom so that we gain clarity and become aware of true reality.
Yoga in the advancing levels calms the mind, and develops the power of discrimination (Viveka). This quality guides us towards correct understanding and to discernment in making right decisions. One of the most important tasks as we develop in Yoga, apart from the physical, breathing and concentration exercises, is to train the intellect and use it correctly.
"Create the right balance between material and spiritual life and you will possess two strong wings with which your soul can soar towards God."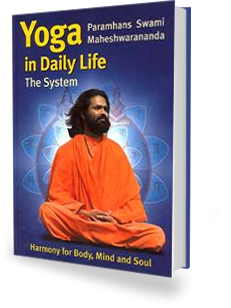 Yoga in Daily Life - The System
8 Levels of Practice: Asanas, Pranayamas, Self-Enquiry Meditation, Relaxation, Chakras, Special conditions, Yogic Diet, and Philosophy.
$69 at your Yoga centre or buy online (shipped from YIDL Wellington, postage paid on the top of the price)
Hard Cover, full color pictures, extensive explanations and contra-indications for all poses, 448 pages.